UPN: United Patriot Network
09/19/2018
09:48 PM
White Existence Is a Crime, Says South African BFL Party Spokesperson
Black First, Land First spokesperson Lindsay Maasdorp has told the author of this article and others about the controversial party that my "existence is a crime."
By Chris Menahan | Information Liberation Wednesday, September 19, 2018
Remember folks: white people are not being targeted in South Africa and President Trump and others who suggest otherwise are conspiracy theorists!
From Daniel Friedman, Citizen.co.za, "White existence is a crime, says BLF spokesperson":
The BLF spokesperson has posted views reflecting his party's belief that all white people in South Africa are criminals by virtue of their existence.
Black First, Land First spokesperson Lindsay Maasdorp has told the author of this article and others about the controversial party that my "existence is a crime."
He also repeated his party's slogan, "land or death."
Your existence is a crime. Hence we say land or death.
— Lindsay Maasdorp (@Lindsay_BLF) September 15, 2018
[…]Maasdorp's assertion that, as a white person, "my existence is a crime," provides some insight into the party's apparent belief that, due to the theft of land by white people during colonisation and apartheid, all white South Africans are therefore criminals, regardless of when they were born and what their political views, history or affiliations may be.
At the recent land hearings held in parliament, Mngxitama called for section 25 of the Constitution to be scrapped entirely to ensure that all land owned by white people is returned to their black counterparts.
The BLF leader said this section should be replaced with a declaration that all land owned by white people in South Africa was stolen property.
Mngxitama has repeatedly made the assertion that absolutely all land occupied by white South Africans should be expropriated.
This makes the party the most extreme in South Africa when it comes to the land issue and in its attitude to white people in general.
They have been accused of hate speech by the South African Human Rights Commision, who have recommended that the party be prevented from contesting the 2019 elections on the grounds that they have made statements violating the Electoral Act.
Maasdorp has come under fire in the past for his posting on both Facebook and Twitter that "I have aspirations to kill white people, and this must be achieved!"
As Turkish state media outlet TRT World assured us recently, it's not that white farmers are being "targeted" in South Africa, but instead "farm attacks are just part of a greater violent crime problem" and "there's no reliable data to suggest that white farmers are targeted more than anyone else."
No doubt Maasdorp's "aspirations to kill white people" are just general aspirations to kill people generally and white South Africans are not being targeted!
28
260
Read More
UPN: United Patriot Network
09/19/2018
03:53 AM
Trump administration sets refugee cap at 30,000
Open borders advocates enraged
By Stephen Dinan - The Washington Times - Monday, September 17, 2018
The Trump administration said it will admit no more than 30,000 refugees next year, the lowest cap in history, making good on a presidential promise and enraging immigrant rights activists, who said the U.S. is shirking its global duty.
Secretary of State Mike Pompeo cast the level — one-third lower than the 2018 ceiling — as a needed pause while the country gains a handle on security risks and deals with some 800,000 people already in the U.S. with pending asylum cases.
"The ultimate goal is the best possible care and safety of these people in need, and our approach is designed to achieve this noble objective," Mr. Pompeo said.
The 30,000 level is only a ceiling, and the actual number could go even lower. Indeed, this year's cap is 45,000, but with just weeks to go before the end of the fiscal year, the government is on pace to accept less than half that number.
Critics including refugee advocates and congressional Democrats have called this year's pace abominable and were dismayed with next year's number. They said it's a major retreat from the Obama era, when the State Department set a 110,000 ceiling for the final year.
"Quite simply, this decision will lead to innocent people dying," said Rep. Eliot L. Engel of New York, the top Democrat on the House Foreign Affairs Committee. He described the decision as "a heartless betrayal of American values."
Activists said the decision is particularly troubling given the scope of international need. The United Nations categorizes more than 25 million people as refugees.
"This decision is not informed by the global need, nor by America's national security and foreign policy priorities. And it will not only harm refugees, whose lives are at risk, but also America's interests abroad and at home," said Betsy Fisher, policy director at the International Refugee Assistance Project.
Accepting refugees has been deeply controversial in the U.S. President Obama's move to raise the cap in his final years drew a feverish backlash from security analysts and was part of the impetus for President Trump's campaign promise of a travel ban.
American officials say criticism of the U.S. is based in part on a game of semantics.
Other countries term all foreigners seeking humanitarian protections to be refugees, but the U.S. breaks them down into two categories. Refugees are those who apply from outside the U.S., and asylum-seekers are refugees who manage to reach American soil and then apply.
When viewed that way, the U.S. will accept 280,000 asylum-seekers next year in addition to the 30,000 refugees, Mr. Pompeo said.
He said the U.S. is already struggling with 800,000 asylum petitions pending in the system. The backlog was built up as a surge of people from Central America lodged asylum claims. In previous years, they would have been classified as illegal immigrants and quickly deported.
When refugees and asylum-seekers are counted together, Mr. Pompeo said, the U.S. is "the most generous nation in the world." He said hundreds of thousands of people granted Temporary Protected Status while their countries recover from earthquakes, hurricanes, war or disease should be counted as part of America's humanitarian efforts.
"Some will characterize the refugee ceiling as the sole barometer of America's commitment to vulnerable people around the world. This would be wrong," he said.
The refugee program came under intense scrutiny in the final years of the last administration, particularly after Mr. Obama said the U.S. would start taking more people from Syria amid that country's civil war and threats from the Islamic State.
Defenders of refugees say they are the most vetted of any foreigners the U.S. admits.
But security analysts said there was no way to be sure of the identity of people attempting to enter from places such as Syria, where the U.S. didn't get cooperation from the government and where the chaos made it impossible to check back stories.
In Mr. Obama's final full year overseeing refugees, the U.S. took in more than 12,000 from Syria and nearly 10,000 more from Iraq.
In the current fiscal year, the U.S. has admitted just 60 from Syria and 132 from Iraq.
Mr. Pompeo, in announcing the lower refugee numbers Monday, pointed to security concerns.
He said one person with ties to the Islamic State managed to sneak in as a refugee from Iraq. Other refugees have managed to conceal criminal backgrounds in their refugee cases, he said.
"The American people must have complete confidence that everyone granted resettlement in our country is thoroughly vetted. The security checks take time, but they're critical," the secretary said.
0
7
Read More
UPN: United Patriot Network
09/18/2018
04:34 PM
Alex Jones Wins Info War, Site Traffic Soars In August
by Joe Mandese @mp_joemandese, September 14, 2018
Despite -- or maybe because of -- being blacklisted from the major social media platforms, traffic to Alex Jones' Infowars.com spiked in August, according to an analysis of monthly visitor data to major conservative websites released this morning by watchdog The Righting.
Infowars site traffic surged by a third in August vs. July, representing the largest gain of any leading conservative site, according to The Righting President Howard Polskin.
"I think the massive media coverage created enormous brand awareness and drove people there," Polskin said, adding, "I don't think that it's as dependent on social media as one might think."
He said September data will be "key" to determining whether Infowars spike is a sustainable trend.
71
641
Read More
UPN: United Patriot Network
09/17/2018
10:56 PM
Originally Posted by ConSigCor
N
othing
B
ut
C
rap just reported that this is an "obvious move by the Trump administration to obstruct the Mueller investigation".
Well, of course they would, They're NBC.
Onward and upward,
airforce
80
678
Read More
UPN: United Patriot Network
09/14/2018
04:27 PM
Venezuela just raised the minimum wage 3000%.
Can you guess what happened?
Yep. Workers are getting fired.
Quote
Venezuelan workers who earned a pittance are now earning a slightly larger pittance, thanks to a big increase in the minimum wage. What they may not have are jobs.

Starting this week, 7 million employees are guaranteed 1,800 bolivars a month -- worth about $20 at the black-market rate. President Nicolas Maduro intended the mandate as political boost, but it's having the opposite effect as companies, already hit by Venezuela's epic economic contraction, tell workers they can't afford to keep them.

While there have been many similar moves in the past, never has one been so disruptive, arriving amid hyperinflation, depression and devaluation. Some employers are restructuring costs, rejiggering pay scales and negotiating settlements with workers. Others are simply dismissing people. Much of the action happens secretively as companies try to avoid punishment by the government, which has been jailing those it believes are flouting the rules....
Onward and upward,
airforce
92
1,045
Read More
UPN: United Patriot Network
09/14/2018
03:49 PM
A Record 7 Named Storms Are Swirling Across The Globe – Has 'The Day After Tomorrow' Arrived?
Overall, there have been 9 named storms in the Atlantic and 15 names storms in the Pacific since the official start of the hurricane season
By Michael Snyder | Economic Collapse Friday, September 14, 2018
Is something extremely unusual happening to our planet?
At this moment, Hurricane Florence is just one of seven named storms that are currently circling the globe. That matches the all-time record, and it looks like that record will be broken very shortly as a couple more storms continue to develop. Back in 2004, a Hollywood blockbuster entitled "The Day After Tomorrow" depicted a world in which weather patterns had gone mad. One of the most impressive scenes showed nearly the entire planet covered by hurricane-type storms all at once. Of course things are not nearly as bad as in that film, but during this hurricane season we have definitely seen a very unusual number of hurricanes and typhoons develop. As our planet continues to change, could this become "the new normal"?
As I mentioned above there are currently seven named storms that are active, but an eighth is about to join them, and that would break the all-time record…
The Hurricane season is causing devastation from the Pacific to the Atlantic as seven active storms are currently swirling across the globe – with high chances an eighth powerful storm will soon develop to break an all-time record.
And actually there is an additional storm that is also developing in the Pacific which could bring the grand total to nine.
Overall, there have been 9 named storms in the Atlantic and 15 names storms in the Pacific since the official start of the hurricane season.
That is not normal.
In fact, one veteran meteorologist has said that he has "NEVER seen so much activity in the tropics"…
Far from being the biggest threat facing the US coastline this hurricane season, Florence will be followed by several other storms that rapidly strengthening in the Atlantic. As one veteran meteorologist remarked, "in my 35 years forecasting the weather on TV, I have NEVER seen so much activity in the tropics all at the same time."
Meanwhile, the biggest storm on the planet is actually in the Pacific Ocean.
Super Typhoon Mangku is a Category 5 hurricane, and it absolutely dwarfs Hurricane Florence…
The devastating force of Hurricane Florence is nothing when compared to the category 5 hurricane sweeping over the Pacific Ocean, Super Typhoon Mangkhu.
With winds close to 180mph, the fierce hurricane is feared to land over a mountainous terrain in the northern Philippines on Friday night, before moving over the South China Sea and potentially impacting Hong Kong and Vietnam.
But let's not minimize the seriousness of Hurricane Florence. It is currently approximately the size of the state of Michigan, and even though it has been downgraded forecasters are still predicting that it will bring up to 40 inches of rainin some areas.
One meteorologist ran the numbers, and he determined that if the current forecasts are accurate the state of North Carolina could end up getting ten trillion gallons of rain…
Weather.us meteorologist Ryan Maue crunched some numbers and tweeted that North Carolina's 7-day rainfall forecast by the National Weather Service's Weather Prediction Center would be like getting "a total of over 10 trillion gallons" of rain from Florence. The math was based on the projected state average of 10.1 inches of rainfall for that time span.
Yes, you read that correctly.
Ten trillion gallons of rain.
Needless to say, all of that water is going to cause an immense amount of damage.
Over in Virginia, a top official is warning that "there could be a number of dams that will fail"…
In neighboring Virginia, officials with the state's Department of Conservation and Recreation have identified some 100 dams they are concerned could be at risk, either because of "spotty inspection records" or because they are still being built.
"If we get 20 inches of rain in a relatively short period of time," Russ Baxter, the department's deputy director told the WSJ, "there could be a number of dams that will fail."
As I write this article, some areas along the coast are already getting hammered. Atlantic Beach has received more than 12 inches of rain, and other towns are already inundated with water.
It is going to be a long couple of days for those living along the Mid-Atlantic coast, and there were reports of panic among those making last-minute preparations…
A rowdy crowd was shown in a Facebook video shared by an employee from the supermarket off Glenn School Road in Durham Tuesday pushing one another and shouting as they hurried around the store to gather their supplies.
Police officers were even spotted making their rounds around the Walmart to ensure the safety of shoppers.
One officer is seen restraining a young boy as another shopper drops several bottles of water.
This is yet another example that shows that you never wait until the last minute to get what you need.
In the end, the damage to property will be in the tens of billions of dollars, but only a handful of people will probably lose their lives.
Now that the storm has been downgraded, some are even booking rooms along the coast so that they can say that they rode the storm out.
For instance, 53-year-old Barry Freed says that he is sticking around so that he can cross this off his "bucket list"…
For Barry Freed, 53, riding out a hurricane was a chance to cross something off his "bucket list."
Armed with a few sodas, some M&Ms, Doritos and a copy of Moby Dick, the Greensboro resident booked an AirBnB at a condo here.
As skies darkened Thursday and winds whipped up at Waterway Lodge, just off the marina near Wrightsville Beach, Freed admitted he wasn't really prepared.
"I kind of thought of this impulsively," he said. "It's kind of a stupid idea."
Yes, it probably is a stupid idea, but I admire his courage.
This storm will come and go, and the recovery will take an extended period of time.
But the much bigger story is what is happening to our planet on a larger scale. These storms are increasing in number and intensity, and that should definitely alarm all of us.
0
9
Read More
UPN: United Patriot Network
09/12/2018
10:21 PM
If people understood how dangerous anything google or facebook is they'd run like hell. And, that includes chrome, gmail maps etc.
6
87
Read More
UPN: United Patriot Network
09/12/2018
03:06 PM
Originally Posted by Kelldor42
Edit: W00t! Celebrating my 100th post.
It took you long enough!

I'm with
ConSigCor
, it's hard to believe anything in the MSM. We should never have been involved in Syria in the first place. It's time to get out.
Onward and upward,
airforce
2
25
Read More
UPN: United Patriot Network
09/10/2018
05:57 PM
And he's threatening to undo everything, and worse, with a pointless trade war. It's not just
IPhones
that will get more expensive. I am not optimistic about the economy.
Onward and upward,
airforce
1
22
Read More
UPN: United Patriot Network
09/08/2018
07:18 PM

Over Half The U.S. Has Now Been Hit By Drought As Lake Powell And Lake Mead Drop To "Dangerous" Low Levels
September 4, 2018 by Michael Snyder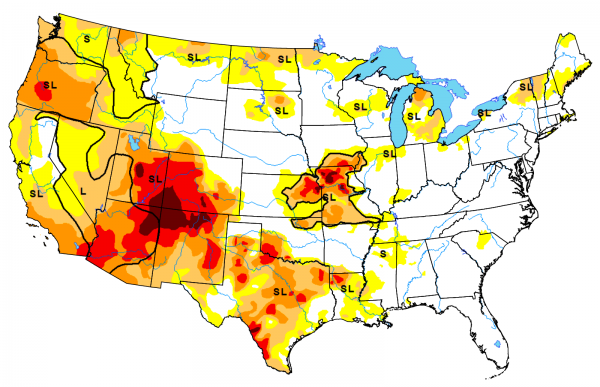 The worst drought in years in the western half of the United States has sparked hundreds of wildfires, has crippled thousands of farms, and has produced what could ultimately be the worst water crisis in modern American history. As you will see below, Lake Powell and Lake Mead have both dropped to dangerously low levels, and officials are warning that we may soon be looking at a substantial shortfall which would require rationing. Unfortunately, many in the eastern half of the country don't even realize that this is happening. The mighty Colorado River once seemed to be virtually invulnerable, but now it doesn't even run all the way to the ocean any longer. Demand for water is continually increasing as major cities in the Southwest continue to grow, and this is happening at a time when that entire region just keeps getting drier and drier. To say that we are facing a "water crisis" would be a major understatement.

I have written quite a bit about the drought in the Southwest in recent months, and it just keeps getting worse. According to Forbes, more than half the nation is now experiencing some level of drought…

Drought conditions across the United States have worsened throughout the summer, culminating in more than half the country experiencing abnormally dry or drought conditions by the end of August.

The latest update of the United States Drought Monitor shows that more than half of the country—nearly 56 percent—is abnormally dry or mired in a full-on drought. More than a third of the country is experiencing drought conditions, and almost eight percent is in an extreme or exceptional drought.

Of course most Americans don't really care as long as water keeps coming out of the taps. And for the moment, nobody is going without water.

But that could change if this drought continues to intensify.

According to the Denver Post, Lake Powell and Lake Mead have both dropped "to dangerous levels"…

Water levels at Lake Mead and Lake Powell are dropping to dangerous levels, reflecting the Colorado River's worsening "structural deficit," scientists said.

A "structural deficit" is simply a very fancy way of saying that we are using water faster than it is being replenished.

Lake Powell is being steadily drained to support Lake Mead, and at this point the water levels in both lakes have fallen to levels that are unprecedented…

"I want people to know that what's going on at Lake Mead is very, very closely tied to what's going on Lake Powell," Doug Kenney said, the group's chair and a professor at the University of Colorado. "We're draining Lake Powell to prop it up."

Lake Powell is about 48 percent full, and Lake Mead is about 38 percent full. By the end of the year, Powell's levels are projected to fall 94 feet (29 meters) below where the reservoir stood in 2000 when it was nearly full.

Many Americans don't realize how exceedingly important these two lakes are.

Approximately 40 million people in Arizona, California, Colorado, Nevada, New Mexico, Utah, Wyoming and northwestern Mexico rely on water from the Colorado River basin, and it has been steadily drying out for about 20 years…

The Colorado River basin, which feeds the two reservoirs, has been drying out over the last two decades, scientists said. With the demands from farms and cities exceeding the available the water supply, the strains on the river and reservoirs are being compounded by growing population, drought and climate change.

The Colorado River and its tributaries support about 40 million people and more than 7,800 square miles (20,200 square kilometers) of farmland.

If things don't change, and there is no reason to believe that they will, we will soon have a shortfall.

What that means is that certain areas would have their water allocations reduced, and Arizona and Nevada would be at the top of that list…

The U.S. Bureau of Reclamation said the chances of a shortfall in Lake Mead, the river's biggest reservoir, are now 57 percent, up from the 52 percent projected in May.

If the surface of Lake Mead drops below 1,075 feet (330 meters) above sea level, some deliveries would be cut under agreements governing the system.

Arizona, Nevada and Mexico would have their shares reduced first in a shortage.

Are you starting to understand how serious this is?

Scientists tell us that the 20th century was an unusually wet period of time for the southwestern United States. For most of human history, a bleak and barren desert dominated most of the region, and it appears that we may be headed back in that direction.

During the Dust Bowl days of the 1930s, vast numbers of Americans migrated to other areas due to heat, drought, massive dust storms and a lack of water.

Now Dust Bowl conditions are returning, and it is entirely possible that we could see a new wave of migration in the years ahead.

Despite all of our advanced technology, we haven't discovered a way to defeat drought, and the devastating drought that is currently gripping the Southwest seems to be getting worse with each passing day.

This article originally appeared on End Of The American Dream.

0

17

Read More

UPN: United Patriot Network

09/06/2018

12:35 AM

Yet He would have had his Soldiers arrest anyone who tried to stop them. And his Soldiers would have gladly obey'd the order.

4

72

Read More

UPN: United Patriot Network

09/01/2018

03:20 PM

Facebook Employees Unite To Fight Ingrained Liberal Intolerance

Mac Slavo

August 29th, 2018 SHTFplan.com

Dozens of employees of the liberal and intolerant social media giant Facebook have decided to unite to challenge the left-wing political bias deeply ingrained in the company. Although the post went up quietly on Facebook's internal message board last week, it quickly took off inside the social network's inner sanctum.

Titled "We Have a Problem With Political Diversity," the post took a shot at Facebook's intolerant views of differing political opinions. "We are a political monoculture that's intolerant of different views," Brian Amerige, a senior Facebook engineer, wrote in the post, which was obtained by The New York Times. "We claim to welcome all perspectives, but are quick to attack — often in mobs — anyone who presents a view that appears to be in opposition to left-leaning ideology."

In fact, Facebook's chief executive, Mark Zuckerberg, told Congress this year that he wanted the company to "be a platform for all ideas." Yet the company continues to punish conservative views on their platform and has even gone so far as to silence and censor others for their dissent.

Since the post went up, more than 100 Facebook employees have joined Mr. Amerige to form an online group called FB'ers for Political Diversity, according to two people who viewed the group's page and who were not authorized to speak publicly. The aim of the initiative, according to Mr. Amerige's memo, is to create a space for ideological diversity within the company. –The New York Times

But not everyone is happy about the post or the new group, and they are the intolerant liberals. They see the formation of a group which advocates political diversity to be insensitive to minorities. Some liberals at Facebook were so offended by the idea of diversity that they filed official complaints. One engineer (who declined to be identified for fear of retaliation) said several people were so offended by the politically tolerant group that they had lodged complaints with their managers about FB'ers for Political Diversity. They were also told that the post and the group had not broken any company rules. But other employees say the group looks like it is constructive and open to differing political opinions.

According to The New York Times, the activity is a rare sign of organized dissent within Facebook over the company's largely liberal workplace culture. It's not going over well with the intolerant leftists either. While the new group is just a sliver of Facebook's workforce of more than 25,000, the company's workers have in the past appeared less inclined than their peers at other tech companies to challenge the leadership, and most have been loyalists to its chief executive, uber lefty Mark Zuckerberg.

Sheryl Sandberg, Facebook's chief operating officer, is scheduled to testify at a Senate hearing about social media manipulation in elections in a week. A team helping Sandberg prepare for the hearing next Wednesday has warned her that some Republican lawmakers will likely raise questions about Facebook and its political biases, according to two people involved in the preparations.

0

26

Read More

UPN: United Patriot Network

08/31/2018

09:28 PM


Watch Out: How PC Has Redefined 'Fascism'

Today's young leftists think anyone who disagrees with them is a fascist


By Marty Gottesfeld | FreeMartyG.com Friday, August 31, 2018

The definition of fascism seems to have changed over the past 80 years or so thanks to propaganda and revisionist history.

But don't get it twisted. In 1938, Franklin Delano Roosevelt – the most popular Democratic presidential candidate of the past 100 years – defined fascism as: "[The] ownership of government by an individual, by a group."

FDR made no mention of left nor right, liberals nor conservatives, communists, socialists nor capitalists, etc. Perhaps that's because at that point in history Joseph Stalin had been the General Secretary of the Communist Party in the USSR since 1922 and in 1933 Adolf Hitler had come to power in Germany as the leader of the Nazis – or National Socialist German Workers' Party.

Indeed for a long time, the left seemed to have a near-monopoly on fascism. For example, Mao Zedong rose to the chairmanship of the Communist Party of the Chinese People's Republic years later in 1949 and Pol Pot wasn't deposed as the head of the Khmer Rouge in Cambodia until 1963.

So, why is it that by 2012 the Paperback Oxford English Dictionary 7th Edition contains this seemingly oxymoronic definition of the noun Nazi?

A member of the far-right national Socialist German Workers' Party.

And how is it that despite Nazi Germany (an estimated 17 million dead), Stalinist Russia (an estimated 9 million dead), the so-called "Cultural Revolution" in China (an estimated 5-10 million dead), and the Khmer Rouge (an estimated 3 million dead) – a combined estimated death toll of 34 – 39 million for these far-left fascist dictatorships – the same Paperback Oxford English Dictionary defines fascism as:

Fascism /fash-i-z'm/ n. 1 a right-wing system of government characterized by extreme nationalistic beliefs and strict obedience to a leader or the state. 2 extreme right-wing or intolerant views or behaviour.

At least the OED's word in the secondary definition above leaves the door open to the existence of non-right-wing fascism by including the words "or intolerant." How long until they ditch those though?

And just speaking about non-right-wing fascism and intolerant views or behavior brings up antifa, the so-called "anti-fascist" movement. However, there is little that could be more fascist than meeting mere words of dissent with violence, as antifa "protesters" have done on multiple occasions:

Except that is for hearing CNN's very own apparent DOJ troll and faux-journalist Jeffrey Toobin say that one can't even criticize antifa after watching antifa respond to words with violence:

So, someone says something that antifa "protesters" don't like and the antifa "protesters" react with violence, but then, others aren't supposed to even criticize that violence with words? Sounds pretty fascist.

7

93

Read More

UPN: United Patriot Network

08/31/2018

01:45 AM

That's great, they were getting all her communications in real time as she sent and received on her illegal server. I wonder if Jeff Sessions will look into the matter? Nope once again crooked Hillary will get away scot free. Incompetence or treason doesn't matter, deep state has got her back.

1

34

Read More

UPN: United Patriot Network

08/28/2018

11:06 PM

Bryan, I would LOVE PROOF of the things you assert, but unfortunately second hand 'hear say' is NOT EVIDENCE you can enter in court. No matter what you say in a 'blog', it is NOT EVIDENCE!

Now how do you know folks are Blackwater employees? If you found 'stolen cattle' why wasn't the Sheriff taken to where they were so they could have been recovered? What actual evidence did you find that we could use against Harry Reed? BTW have you actually seen that report on the minerals?

Care to answer MY questions? They are simple compared what you would face from Lawyers while you would be on the stand testifying.

159

1,373

Read More

AWRM Announcements

08/27/2018

03:13 PM

2019 Sparks31 Classes

Boston, MA – Urban Signal (Communications and SIGINT) Class – July 20-21, 2019 – $500 (early bird rate)

Denver, CO – Communications Monitoring and SIGINT Class – May 18-19, 2019 – $200 (early bird rate)

Denver, CO – Come As You Are and Get On the Air Field Radio Class – May 25-26, 2019 – $200 (early bird rate)

Salt Lake City – June 8-9, 2019 – Communications Monitoring and SIGINT – $300

Seattle, WA – Communications Monitoring and SIGINT Class – June 22-23, 2019 – $400 (early bird rate)

Yakima, WA – – Come As You Are and Get On the Air Field Radio Class – August 17-18, 2019 – $300 (early bird rate)

I'm now accepting deposits ($50 non-refundable) for the above classes at

https://squareup.com/store/sparks31/item/class-deposit.

There are still a few slots left for my Denver SIGINT Class in October. You have only one week left to take advantage of the early bird rate.

https://sparks31wyo.wordpress.com/new-class-available/

14

251

Read More

UPN: United Patriot Network

08/26/2018

09:33 PM

Originally Posted by ConSigCor

Are you familiar with John Casey?

He and a group of scientists have been studying the effects of previous "grand solar minimums". Right now we are entering one similar to the one that occurred in the early 1800's. They claim that in every case they studied there was a huge increase in volcanic activity and massive earthquakes in addition to severe weather. In his book he discusses New Madrid going off like 1811. Casey is urging everyone to get ready...says a major event is coming soon.

Yes, from back in the days when he was at the Oak Ridge nuclear laboratory. Kearney that wrote the book "Nuclear War Survival Skills" by Creston Kearney should also be required reading.

3

57

Read More

UPN: United Patriot Network

08/22/2018

04:55 PM

Stewart Baker has a

fascinating new article

outlining recent cyberattacks on the United States, and offering a few suggestions on how we might respond to them. Well worth a read!

Quote

We need better, more aggressive options to deter cyberattacks, since the ones we've come up with so far are clearly not deterring our adversaries. I would like to inspire more ambition, aggressiveness, and creativity in the American response. As the first stage in that effort, here's an op-ed I published today in the Washington Post:

The United States may have pioneered the idea of fighting wars in cyberspace, but it's our adversaries who are using cyberattacks most effectively.

To deter them, the country needs creative new ways to punish nations if they launch the devastating attacks that are within their grasp.

The need for options to strike back at cyber-aggressors is obvious — and urgent. Despite the sanctions and indictments provoked by Russia's attack on the 2016 U.S. presidential election, Russian President Vladimir Putin is doubling down on cyber-intrusions. In recent months, Microsoft reported that Russia was trying to infiltrate the computer networks of multiple congressional campaigns.

Worse, the Department of Homeland Security says Russia is making a major push to infiltrate U.S. power-plant control rooms.

The only debate is over Putin's intent: Is he planning to shut off power in the United States, as he is accused of doing in Ukraine in December 2016, or does he simply want to show that he can do so whenever he wants?

Other adversaries are also delighting in cyberweapons' leveling effect.

U.S. intelligence agencies believe that China is cheating on its Obama-era pledge not to engage in commercial cyberespionage. North Korea has dramatically improved its capabilities, moving its best hackers to China and other countries where Internet service is better, and using them to steal from banks, as well as to threaten the United States. And Iran, which wielded its willingness to attack U.S. corporations, banks and even dams as leverage in nuclear arms talks, remains one of the most active of all the nation-state hackers followed by the cybersecurity firm FireEye.

No wonder Director of National Intelligence Daniel Coats recently said of these cyberthreats: "The warning lights are blinking red again."

U.S. officials have often said the United States has unrivaled offensive cybercapabilities. Why hasn't that deterred anyone? It's simple. The United States is so reliant on computer networks that we're afraid to launch a tit-for-tat exchange in cyberspace. It was true during the Obama administration and remains true today. As Army Lt. Gen. Paul Nakasone said during his confirmation hearing in March to be the nation's top cyberwarrior, our adversaries "don't fear us."

Instead, they're gradually upping the ante, looking to impose as much pain as possible without triggering serious consequences. The longer we go without an effective response, the more pain we'll suffer. And if we wait until enemy hackers manage to kill lots of Americans, as they could, we risk a U.S. response so sudden and harsh that it sparks a war.

The country has tried "naming and shaming" attackers by indicting government-sponsored hackers from China, Iran and Russia. That's fine, but the United States is unlikely ever to arrest those hackers, and, over time, attribution without retribution just advertises weakness. Sanctions have more bite and should still be employed, but their impact is delayed, hard to target and clearly insufficient. These inadequate options are about all the interagency process has coughed up.

We need to get tougher and more inventive. In the hope of inspiring others' imagination, I offer a few options that belong in the U.S. tool kit:

●The next time North Korea uses its cadre of expatriate hackers in Kenya, Mozambique and other countries to attack the United States, we should demand that the host government expel the hackers. If officials don't comply, U.S. Special Operations forces have plenty of experience taking action in countries that are unable or unwilling to stop terrorists operating from their soil; they could be sent in to seize the buildings, probably hotels, being used by the cyberattacks and take the hackers into custody.

● Russia has allegedly loaded U.S. electrical control systems with tools that could shut down the grid. Putin's threat is clear, but two can play that game. It's possible to build electromagnetic pulse weapons the size of a large copy machine that can fry electronics for a few miles around. Why not install several such weapons in high-rise office spaces around Moscow, including a few places where they'll be found? Like with Putin's implants in our grid, he'll never be sure he has found them all, and there's no need to use them — unless Putin uses his.

● Iran has shown a willingness to use malware that leaves victim networks irretrievably damaged. If Iran did that to U.S. systems, Iran's remarkably vulnerable offshore oil platforms would be good targets for payback, from simple interruption of gas flows to complete destruction of as many platforms as are necessary to end or deter an attack.

These options may seem extreme; they were once unthinkable. But, frankly, so was Russia's playing a major role in a U.S. presidential campaign.

If we don't want to suffer more extreme injuries at the hands of our adversaries, we need a few unthinkable responses of our own.

Onward and upward,

airforce

0

25

Read More

.